Friday, March 17th we started early to cross Florida's "Big Bend."
The Big Bend is the area between Florida's panhandle and peninsula; the Northeast corner of the Gulf of Mexico.  The Gulf in this area is shallow, so wind-driven waves can be short and choppy.  At times we were 10 or more miles from land, in 12 feet of water.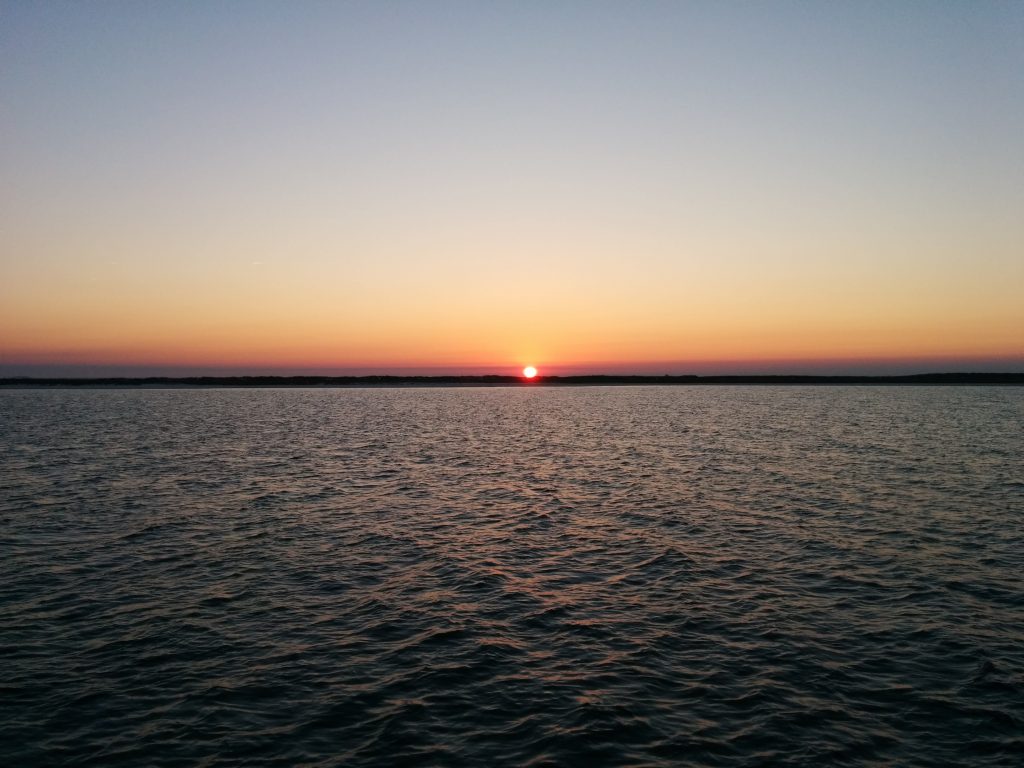 We hoped it would take about two days to get back into the Gulf ICW, and the forecast was good, with winds and seas not expected to build until Saturday evening.
To avoid a night crossing, the only real option would be to stop overnight along the Northern Gulf Coast.  However, even miles out, the water can be just a few feet deep.  A few ports had dredged channels leading in from the Gulf, but only one, Steinhatchee, was a reasonable day's travel from Dog Island.
Again we had dolphins approach the boat and disappear just as we got the cameras ready.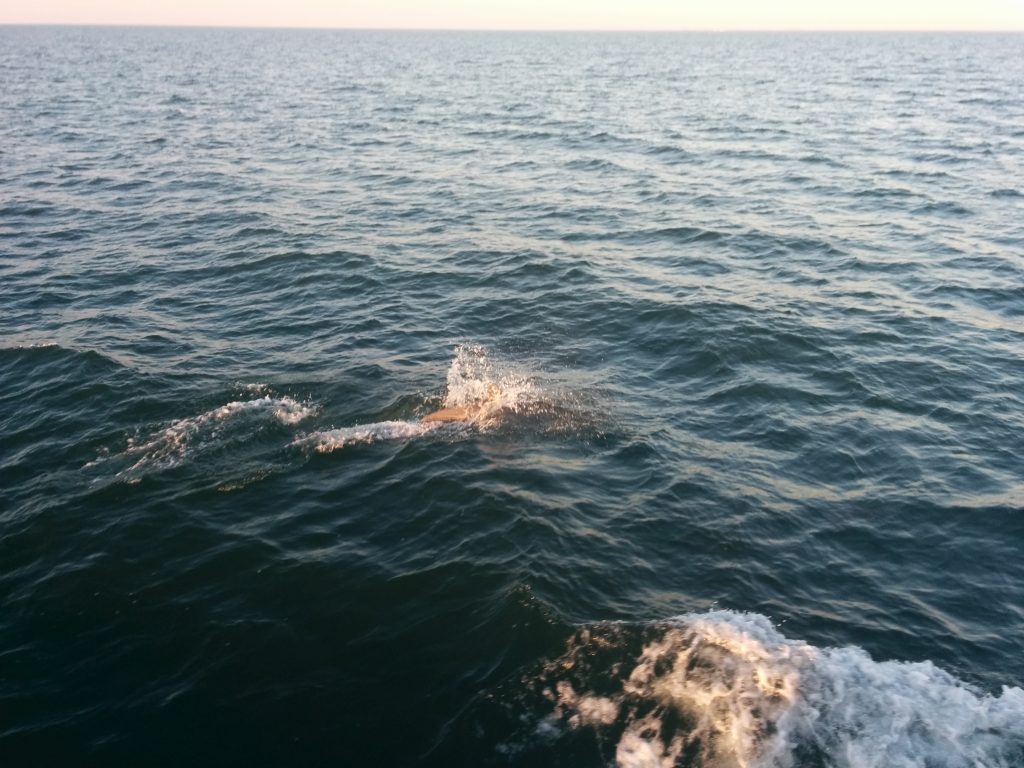 The weather remained calm as the sun rose, and the forecast remained the same. By mid-morning we decided to adjust our course a little southward, skip Steinhatchee, and press on to the area off Suwanee.
I say "off Suwanee" because the channel was dredged decades ago, and hasn't even been surveyed since 2006, at which time it only carried two feet of water. Since we needed 3-1/2 feet, we wouldn't be able to get in to the Suwanee River.
The plan instead was to get there around sunset, drop anchor about 2-1/2 to 3 miles from shore, in about six feet of water, outside the entrance to the old channel.
If the forecast held, we wouldn't need the protection from wind or waves that a normal anchorage provides.  We'd also avoid the long trip up and back down a channel to reach a harbor, and we'd be able to get an early start the next day, ahead of the deteriorating weather that evening.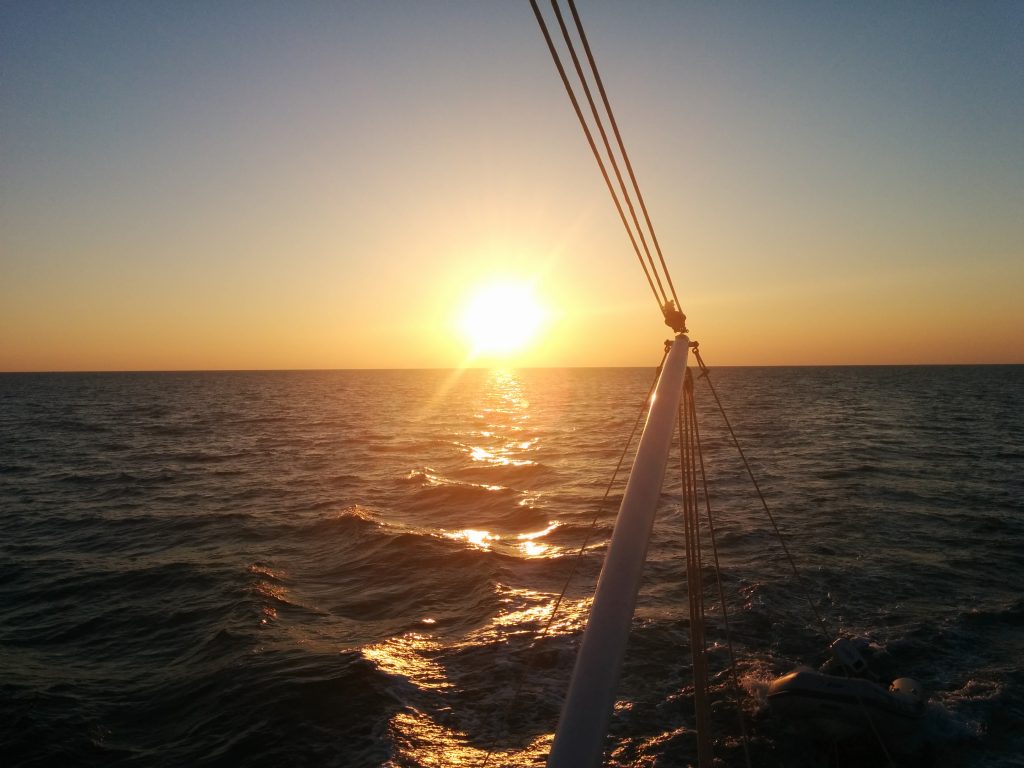 The plan worked.  The winds and seas remained light overnight, giving us a relaxing night after a long open-water crossing.
Day 16 added another 81 nautical miles to our trip, for a total so far of 952 miles.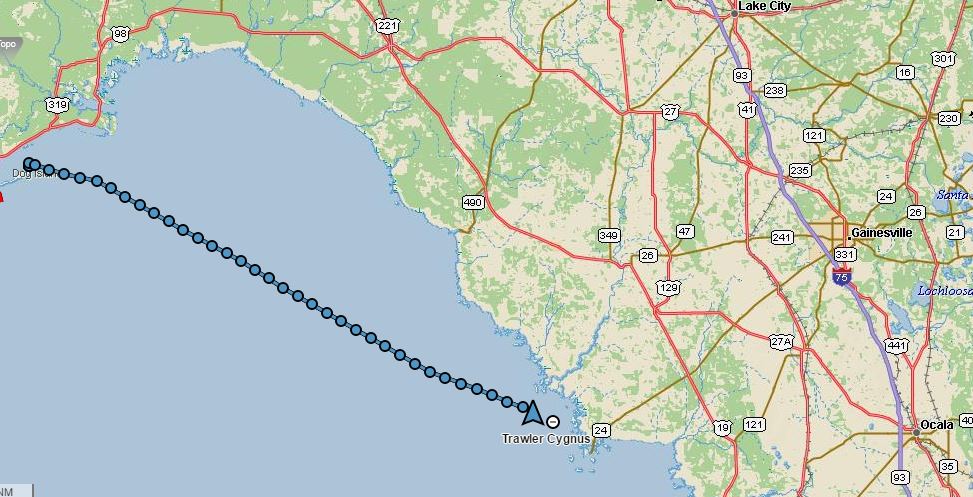 Previous: Day 15 – Panama City to Dog Island