The Down East Loop was fantastic. But who can resist the lure of the "Great Loop?"
The Great Loop is the one most people have heard about. It's more popular, possibly because it avoids the remote reaches of Atlantic Canada and passes through more protected, inland waters. But it's not without it's challenges, and it's a great way to see some fantastic parts of two countries.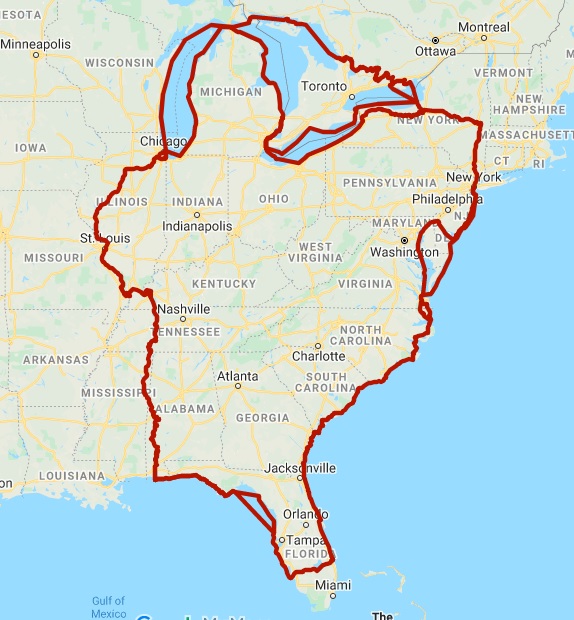 For the great loop, boaters go up the Hudson River, turn left at the Erie Canal, cross the Great Lakes, head down the Mississippi, Tennessee and Tombigbee Rivers, cross the Gulf of Mexico and then around (or through) Florida back to the East Coast Intracoastal Waterway.
That's the big picture, but there lots of different options and different waterways to choose along the way.
The whole loop is, at minimum, almost 5,000 nautical miles. Most people end up traveling about 6,000 miles. At a comfortable cruising speed of 7 or 7.5 knots, and assuming a 5-hour travel day, the trip could be completed in less than 180 days. But of course there will be a lot of exploring along the way. Although there is less chance of being holed up waiting for weather than on the Down East Loop, there will still be side trips and "in port" days.
Even with fewer weather issues, climate is a big factor for planning the Great Loop. Most people time their travels to hit the Erie Canal between its opening date in Mid May and Mid June. This puts Loopers in the northern legs of their trip in mid Summer, and the southern parts in Winter.
It is possible to do the Great Loop entirely in US waters, and many have chosen this option for 2021, due to pandemic restrictions on border crossings. This option follows the western portions of the Erie Canal, which are very different from the eastern half.
The hope is to take Cygnus on the Canadian route, to experience the Trent-Severn Waterway, Lake Ontario, Georgian Bay, Lake Huron, and Lake Michigan, although we'd miss out on Lake Erie along this route. Maybe next time.
Above is an interactive map of the Great Loop. Zoom, scroll or change the map background!
Mobile Users: Use the "Hamburger" button

above the map to open the menu for this site.
There's also a menu within the map for selecting map display options.
Thinking of going on the Great Loop? Been there, done that? Leave a comment, below.