Wednesday, July 20th
Strong Southwest winds were again forecast for Wednesday, so we slipped out of Cape Canso Marina early, in heavy fog, hoping to get some travel time in before the seas built.
We had moderate success. The developing Southwesterlies cleared the fog after an hour or so, but also started kicking up some heavy seas. We took the inside route, Andrews Passage, out of Canso but soon had to face open water. We got past the first couple of possible anchorages but finally threw in the towel and took the inside passage to Country Harbor. One anchorage, Harbor Island Cove, seemed too exposed as the wind continued veering a little more Westerly. So we crossed Country Harbor to hole up in Fisherman's Harbor just to the West.


There is a very small municipal wharf at Fisherman's Harbor, but it looked full, and we were really interested in the highly-rated anchorage just outside the wharf. We needed a place with protection from the West and Southwest, as well as good holding for our anchor.
This was it! The wind howled all afternoon, and even this little harbor kicked up some whitecaps. We were very glad for the protection of the shore and the black, sticky mud bottom that held our anchor like glue as the boat swung with every gust. We had put 40 miles under our keel today, not bad for such awful conditions.
Later in the evening, the winds let up considerably and we enjoyed another beautiful sunset and a calm night.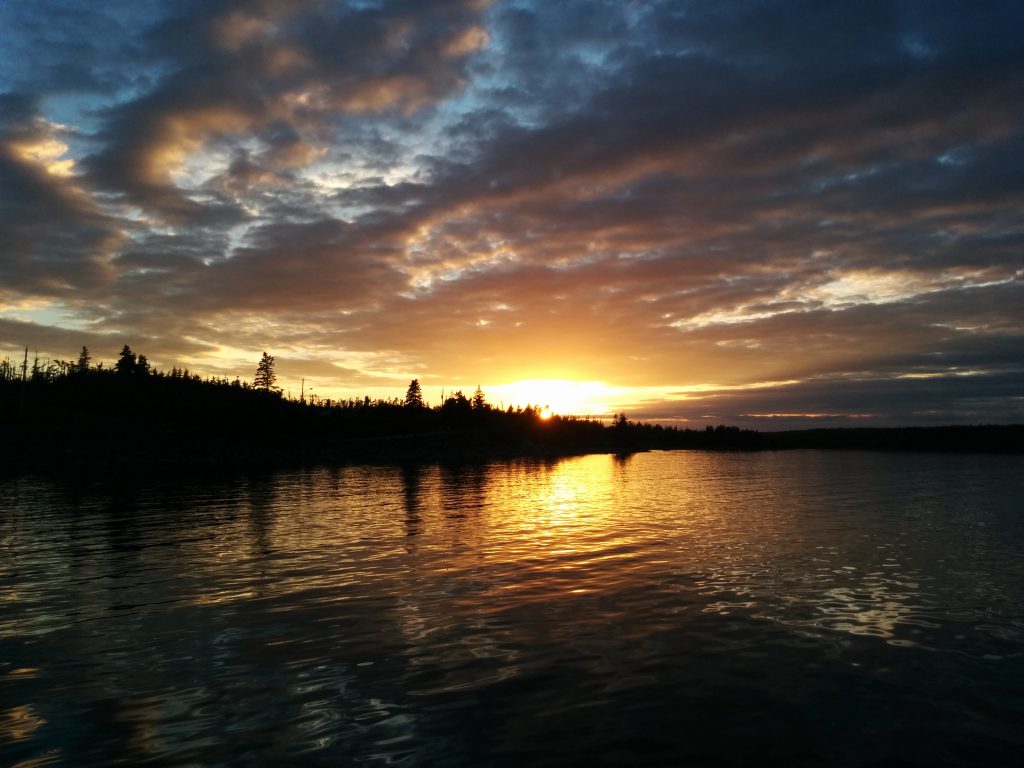 We were also optimistic that Thursday's forecast strong winds would again hold off until mid-day, allowing us to make more progress if we started early enough.
Miles traveled: 1590
Engine Hours: 227.0