Saturday, June 9th
Just before sunset we were treated to a textbook display of Cirrus uncinus, or "mare's tails" clouds. These often signal the approach of a warm front, however, winds continued to diminish overnight and the sky was ablaze with stars.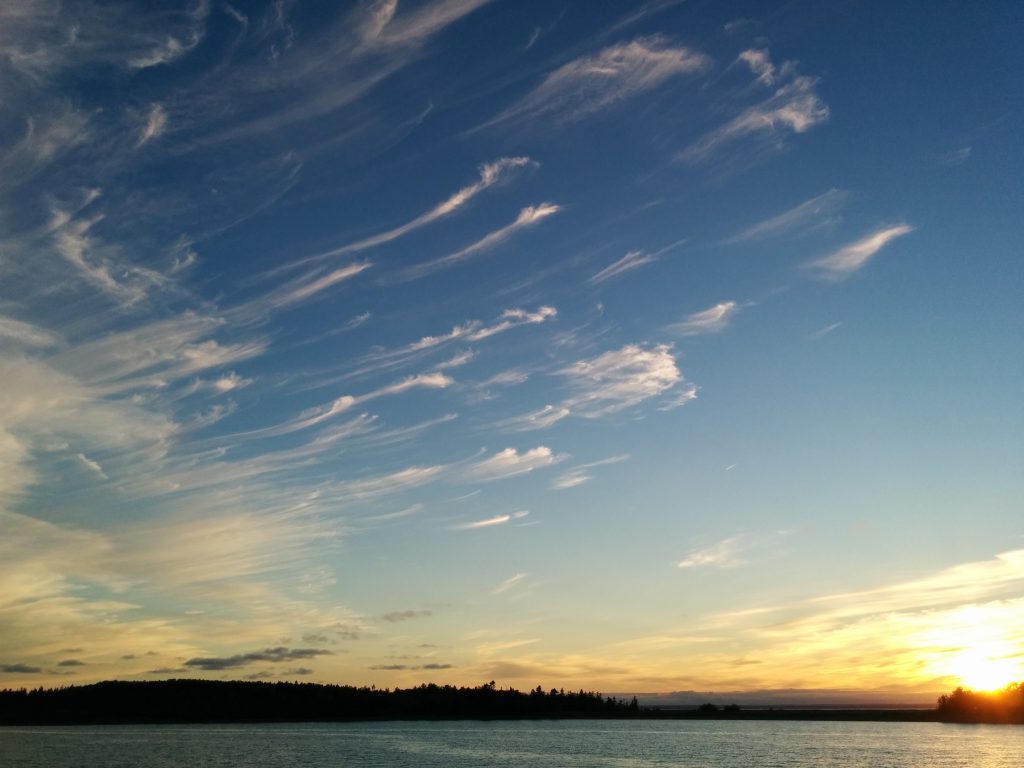 Saturday brought a postcard sunrise and calm winds.


The day looked perfect for covering the long stretch of open water to our first-choice port for the night.
It was not to be. Underway, I do engine checks at least hourly. This includes taking in the sounds, sights and smells of the engine room, taking some temperature measurements, checking the bilges and the numbers on some gauges. But most of all, being in the engine room allows me to notice anything unexpected.
One thing that came up recently was a very slow fuel leak from the port injector pump. This part had been recently rebuilt, but over the course of a couple of hours running the engine, there would be a small drop of fuel on the bottom of the case. Not an emergency, but something I looked at very closely each hour for the past few days.
Today, one hour out of our anchorage, I didn't need to look closely. It was clear that it had gone from a drop to a steady flow of fuel into the pan below the engine. In that hour, over five gallons of fuel had leaked into the pan. Many times I've appreciated having these engine pans. This time had to be the best save yet. That much fuel in the bilge would have been a much bigger problem!
We quickly shut down the port engine and diverted to our second-choice destination, Escuminac Harbor, just 14 miles from our anchorage in Miramichi Bay. This is a good sized fishing port; almost exclusively lobster boats. Fortunately for us, the lobster season around here closed at the end of June, and won't start again in another zone until fall, so we were able to find a spot on the floating docks. Most fishing harbors only have a steel or concrete wall to tie to, so the floats were greatly appreciated.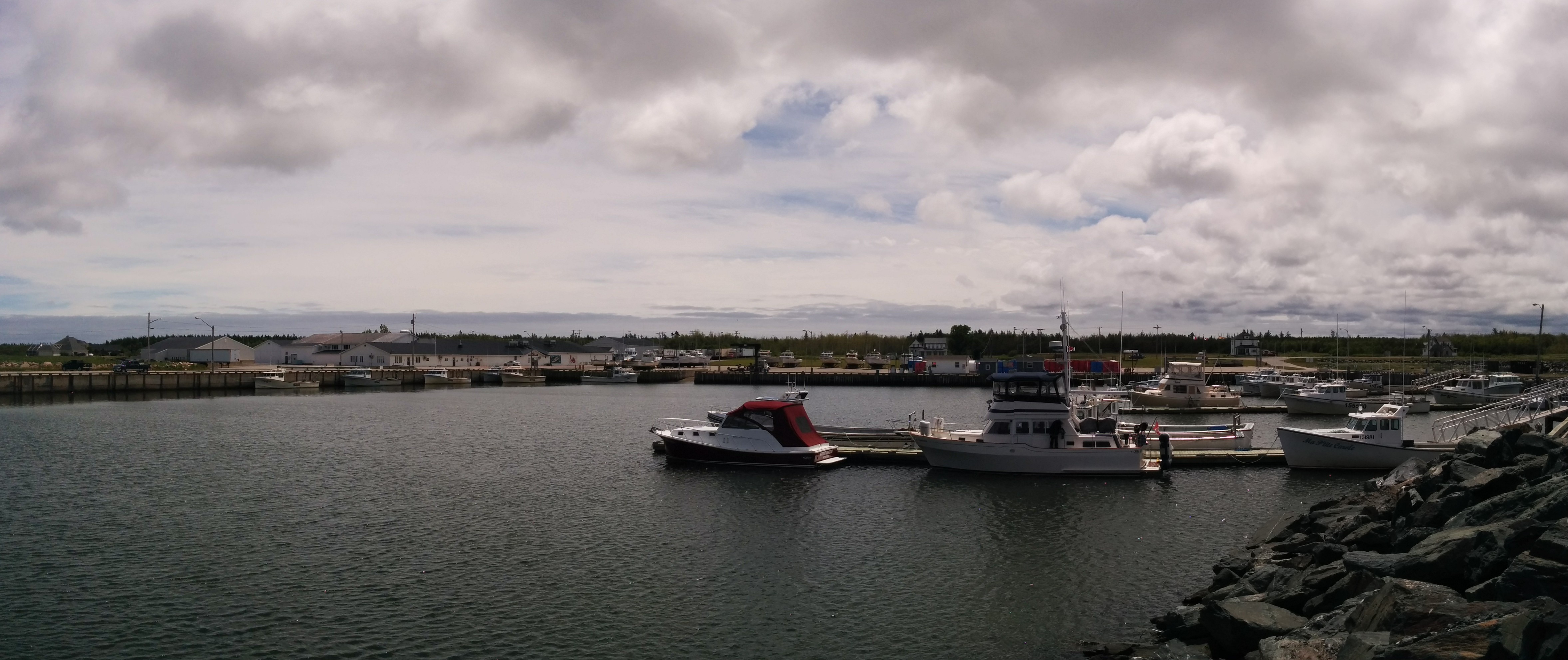 A local boater passing by in a small outboard directed us to an empty spot on one of the docks, and another local came over to help us with our lines. Within 15 minutes of tying up, we'd already gotten the names of two area diesel mechanics, and met one more. We'd also gotten two offers for rides to town if we need anything, and were lent an extension cord in case we needed it to reach the power outlet up on shore.
The mechanic who was already here working on another boat came by when he was done, and quickly diagnosed the problem. The leak was from a gasket that had been blown out of place.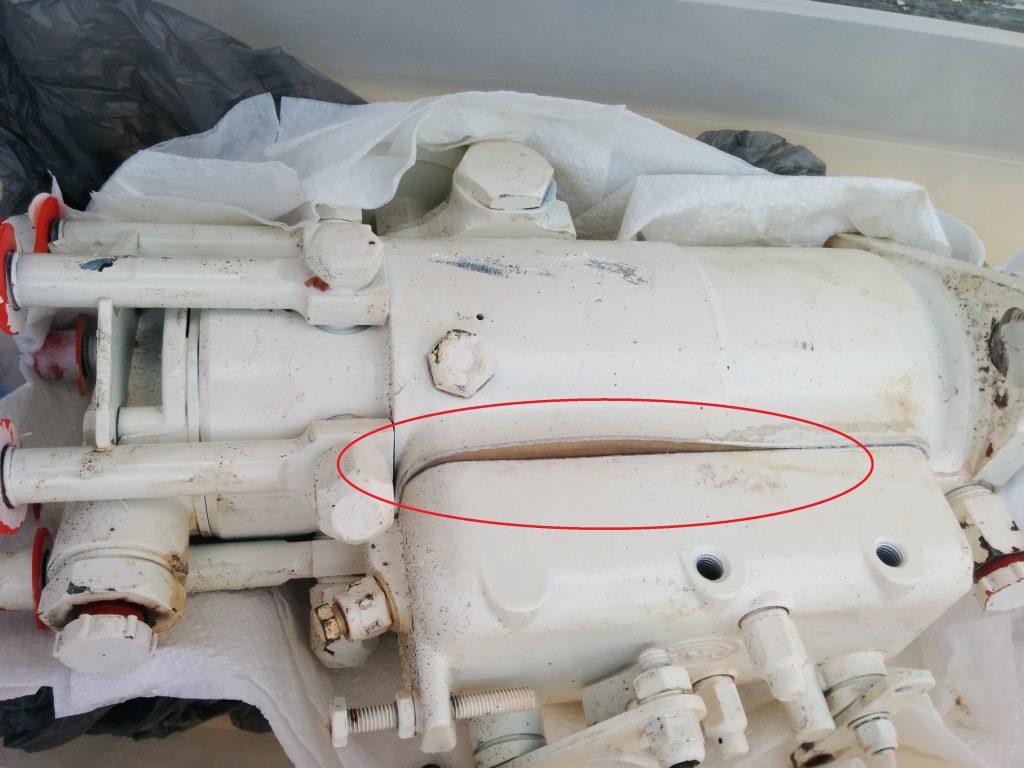 The mechanic said he'd be back this way tomorrow or Monday, and if I removed the pump, he'd pick it up, bring it back to his shop, fix it, and bring it back here. He wasn't sure if he had the replacement gasket in stock or if he'd have to order it, but either way he sounded confident it would be a reasonably quick turnaround. My fears of being stuck here for weeks waiting for a part are somewhat diminished.
The two advantages of selecting a fishing port are (1), you are sure to find a diesel mechanic, and (2) they're accustomed to working quickly, since fishermen can't afford to wait long for repairs.
So, it looks like we'll be enjoying the hospitality of the fishermen of Escuminac Harbor for at least the next couple of days. I happened by the office during the few hours they were open today, and was pleasantly surprised to hear they have Wi-Fi available on the docks. With the Wi-Fi password and the 15 Amp power outlets, we'll be fine.
Miles traveled: 1296
Engine Hours: 185.1