Sunday, July 3rd, In Port
Another day in Rivière-au-Renard. We're hoping for a break in the weather tomorrow, but with seas reported at 7 feet in short chop, we decided to sit it out here again today.
In addition to a full oil change on both engines (that's 7 gallons of oil, total), another accomplishment today was posting videos stitched together from each day's GoPro images.
Walking the docks with our French interpreters from S/V Caribou, we learned a little more about some of the other vessels here. There are two racing sailboats readying for a trans-Atlantic race. One has a crew of 7, the other 12. Conditions on any offshore racing sailboat are spartan at best. It's hard to imagine 12 people living on one for that long!
Near us is a Coastguard 47 foot motor lifeboat. It's very similar to the ones the US Coast Guard uses, although the Canadian version is painted better: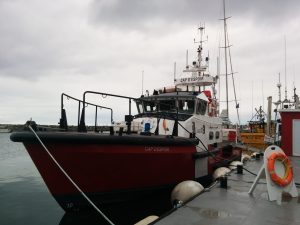 Next along the dock is a gillnetter, then a long-liner, then a shrimper. The one after that defies description. It's a boat with some French nationals aboard who came through the Northwest Passage and are on their way to Greenland.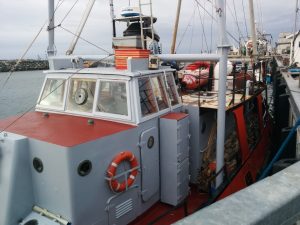 Their plan is to stay the winter locked in the sea ice. Yes, that's a snowmobile and sled up on the overhead of their cabin, and firewood along the port side.