Saturday, July 2nd, In Port
There's a strong East wind blowing, and we're not planning to go anywhere today. Tomorrow doesn't look good, either. We're here behind a massive stone breakwater that's inside another, longer massive stone breakwater. This seems like a good place to be when gale warnings have been posted.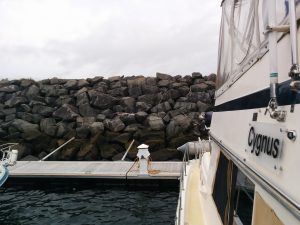 In addition to working down the boat "to do" list, this downtime has allowed me to figure out some techniques for stitching the time-lapse photos that our GoPro knock-off camera has been taking into videos. I'm still experimenting, but if this goes well I'll add a new page with some of the better clips.
My first attempt is our June 18th trip down the Chambly Canal, which brought us from Lock #9, at the level of Lake Champlain, through all the locks along the Chambly, the Richelieu River, and ending just before the final lock at St. Ours, below which lies Sorel, where we joined the St. Lawrence River.
This clip starts at 9:15 AM when we left the dock above the lock, waiting for the 9:30 opening. We didn't know whether the first opening of the lock would be for up-bound or down-bound boats, so I asked the operator when I saw her arriving. She said since I was the first one to ask, today it would be down-bound (our way.)
It also includes the sequence from 1:11 PM until 4:36 PM while we waited for the last swing bridge to be repaired, then for up-bound boats to lock through, before we could continue down the Richelieu to the wall before the St. Ours lock, just before sunset.
What may not be obvious in this speeded-up video is that many of the bridges, and all but one of the lock gates, are hand-cranked. The operators actually get in a car and drive from the lock to the next bridge to crank it open, then the next, through their territory. They also pass along information about the boats that are in transit to the next operator.