Thursday, July 28th
Surprise, we have internet access again. Canada is much more connected than Maine!
We left Halifax in thick fog; less than 100 yards visibility. We did a courtesy check-in with Halifax Traffic Control on VHF channel 12, and threaded our way out between the wharves, islands, criss-crossing channel buoys, ferries, work boats, container ships and tug boats. Halifax Traffic does a good job of keeping track of everyone and letting each vessel know what to expect. With AIS, two radars, three chartplotters and two VHF radios on the bridge, we really didn't have much trouble. Sammy hates the fog horn though!
Despite the fog, conditions outside were great for traveling. The seas were somewhat less than previous days, but more importantly, they were regular and consistent. We didn't experience the violent rolling and pitching the Northeast coast had produced. We quickly decided to continue past our original destination for another 30 miles, for a total of about 70 miles today. Our chosen destination was Brooklyn, Nova Scotia, on Liverpool Harbor. I thought it would be fun to say we went from Halifax to Liverpool to Brooklyn, all in one day.
About 6 miles out of Liverpool Harbor we overheard a call on VHF channel 16 to Halifax Coast Guard Radio, asking for assistance. The sound was crisp and clear, and seemed close. I jotted down the Latitude and Longitude the caller sent, and that spot was about 18 miles North of us. However, if he'd transposed two digits, that would put him just a mile or two away, in the exact location where we saw a lobsterboat not making way.
After some back-and-forth with the Coast Guard, we were able to confirm that the boat we saw was indeed the one that had broken down. We were already on our way. The vessel was a 44-foot Novi-hull offshore lobster boat, easily twice the weight of Cygnus. The owner had just bought the boat and had run into some sort of fuel problem. We talked about loaning him a fuel transfer pump, but in the end we all agreed it would be best to tow him to Liverpool Harbor, with thanks from the Coast Guard.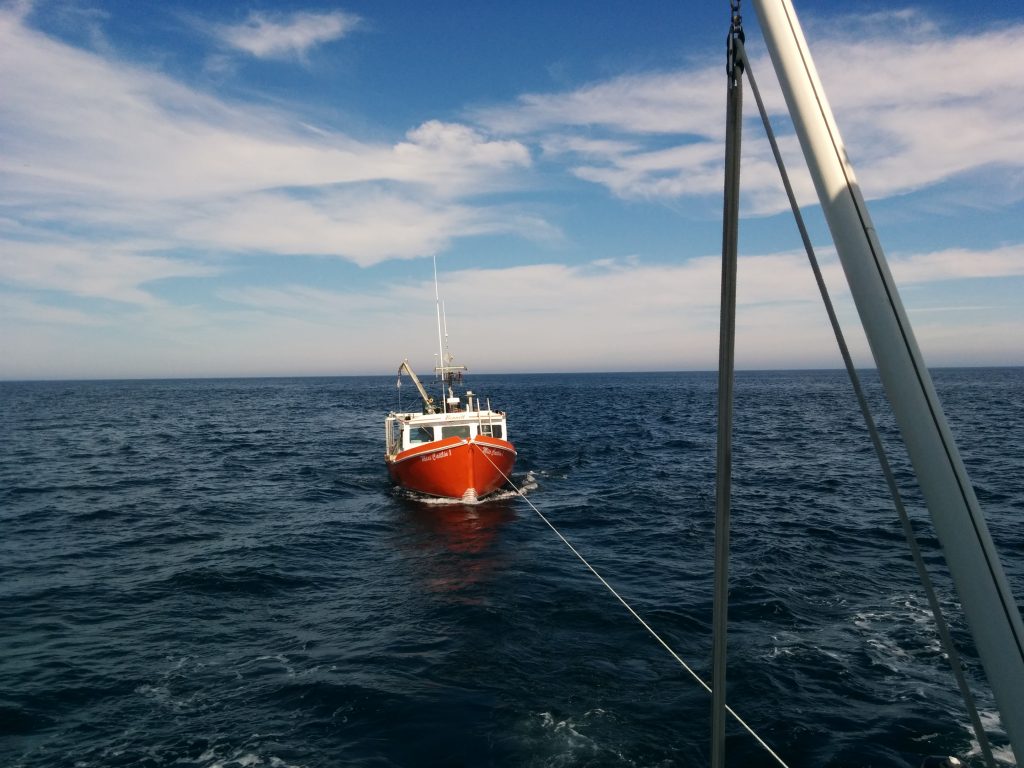 For my Auxiliary friends, he caught the line on the first toss and we took him in a stern tow on about 85 feet of 5/8″ nylon tow line. Seas were moderate and Cygnus seemed to enjoy her new role as a tugboat. In a textbook tow we would have put out more line, but having a 20-ton sea anchor really cut down on the roll and we didn't see any serious shock loading. And we were heading into protected waters.
Neither us nor the other skipper had ever been to Liverpool. The charts showed a commercial pier between a breakwater and some very shallow water. Communication with the Coast Guard became difficult as we approached the harbor, possibly due to some local interference. The phone numbers we had for the local boat club and for a local diesel mechanic both went unanswered. We'd have to figure it out when we got in.
There was another lobster boat on the face of the pier which we agreed would be the best place to try to land. I had to slingshot him in on a shortened tow line, and we recruited a guy fishing off the pier to help handle lines. The other skipper even managed to get his engine running for a few moments to help with the final approach.
Another successful Coast Guard case handled by Cygnus!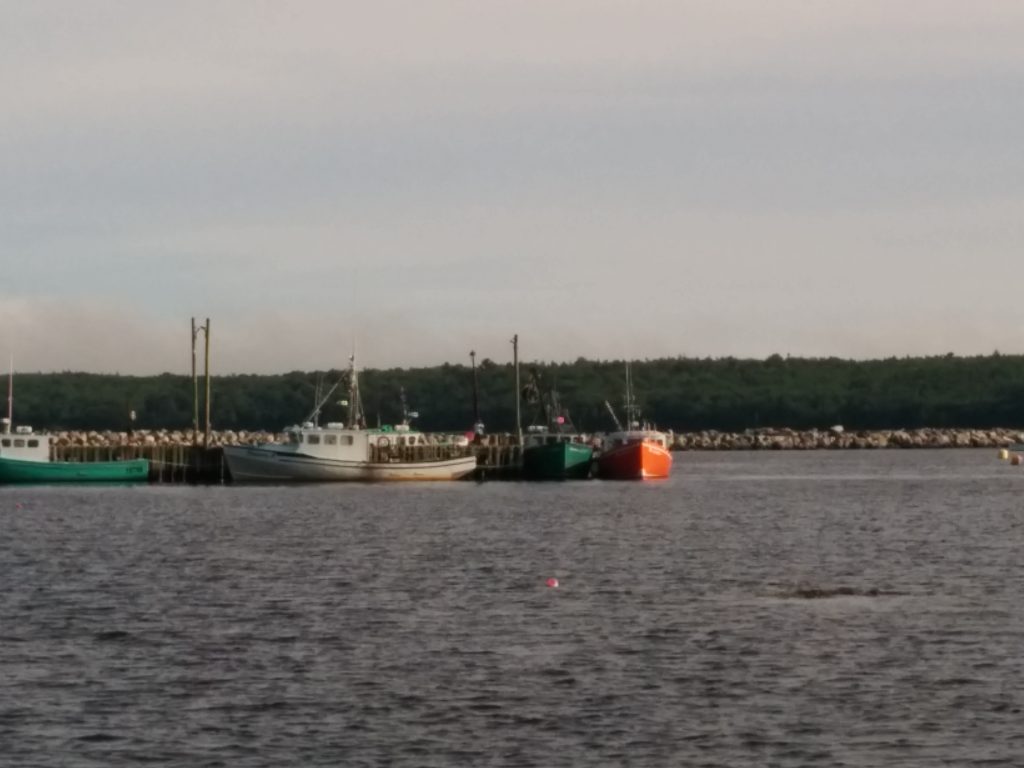 If I were in the Canadian Coast Guard Auxiliary I'd have earned two hours pay, plus had my fuel and all consumables reimbursed. They also pay for uniforms. And, they were happy to let us take this case. The US Coast Guard could learn something from their Canadian counterparts.
We continued upriver to the local marina, which is run by a small boat club. The clubhouse is unlocked, payment is on the honor system, and there's Wi-Fi, power and water available.


Miles traveled: 1780
Engine Hours: 254.9