Friday, July 29th
A bright sky, with calm winds and seas, promised for a good travel day. We hoped to reach Shelburne Harbor, about 40 miles Southwest of Liverpool Harbor. There are a number of anchorages near the mouth of the Harbor, as well as more anchorages and a marina up the river.
Under mostly cloudy skies, the fog actually increased as the day progressed; at first patchy, but eventually just a solid mass, with visibility measured in feet. But the seas remained calm and travel was not difficult.
After yesterday's daring rescue towing evolution we got settled in late and neglected a lot of boat chores. We were also getting tired from the early mornings and long days underway. We elected to take the seven-mile trip upriver to the Shelburne Harbor Yacht Club, rather than anchoring at the harbor entrance for another early morning getaway tomorrow. After all, this is supposed to be a vacation.
The total mileage for the day ended up being 48 miles, and we'd spent 6.8 hours underway.
When we called the club, visibility at their location was about five miles. However, the standard mid-day Southwest wind had already begun, and it blew in a thick patch just as we arrived. S/V Kantala, whom we'd spoken with on the radio at the harbor entrance but never seen, arrived about a half-hour later. A third boat arrived soon after. Counting the one that was here before us, the transient dock is now full, with four boats tied up.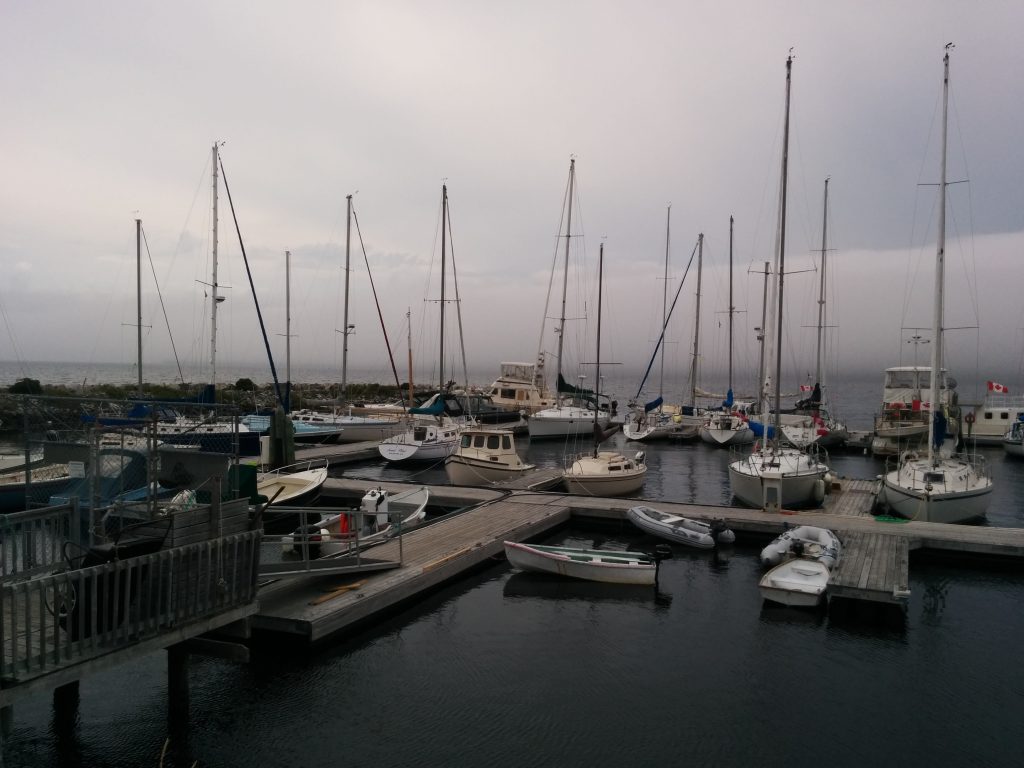 (This picture was taken before the last two boats, and the thicker fog, arrived.)
The plan at this point is to relax here for an extra day, probably getting underway Sunday.
Miles traveled: 1828
Engine Hours: 261.7