Saturday, August 20th
Yesterday we enjoyed another great Roque Island sunset.


Today we headed for Northeast Harbor, 41 miles away on Mount Desert Island. Through Moosabec Reach, between Jonesport and Beal's Island, we encountered a 1- to 1.5-knot foul current, and as usual, thousands of lobster buoys. And to think the folks in Shediac Harbor tried to call their town the "Lobster Capital"!
Still, the weather was calm and running against the current meant the buoys and toggles were parallel with our direction of travel. Later on, with the wind on our beam and no current, they were all strung across our path.
This diagram oversimplifies things. Imagine hundreds of these things, and there's always three or four more strung across wherever you want to go. Those toggle can be near the pickup buoy, or as much as 20-50 feet away, making an effective snare.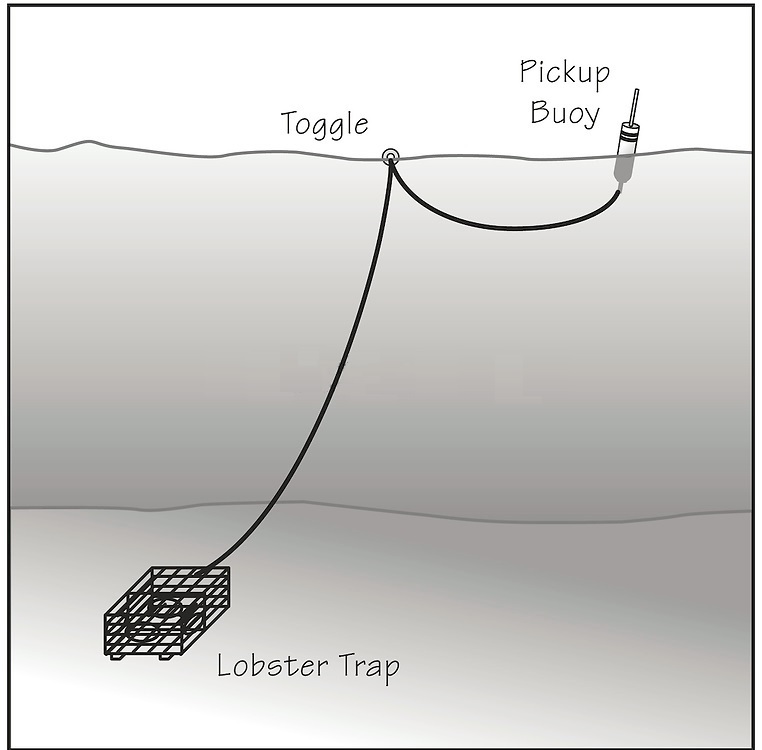 Only some regions use toggles. Intelligent lobstermen just use one pick-up buoy. I've heard lots of reasons for using toggles. None of them justifiable. In Southern Maine, we have all the same issues; strong currents, large tides, rocky bottoms that snag and chafe lines, etc. But somehow we manage without toggles.
Needles to say, Otto is unable to see and avoid these snares, so navigation here is pretty "hands on." Reading the wind and current, learning what each fisherman's individual buoys and toggles look like, and how each one is rigged, becomes second nature. And the extra vigilance at the helm pays off when there's other debris in the water.
Northeast Harbor is always our preferred destination on Mount Desert Island. The more well-known Bar Harbor has a small, overpriced marina with few services. Southwest Harbor caters to more upscale boaters, as well. There are lots of beautiful, more remote locations, but services and access to the Island bus may be lacking.


Northeast is a popular destination. Even arriving fairly early, we had to settle for a remote mooring. We're the most distant boat near the center of this photo: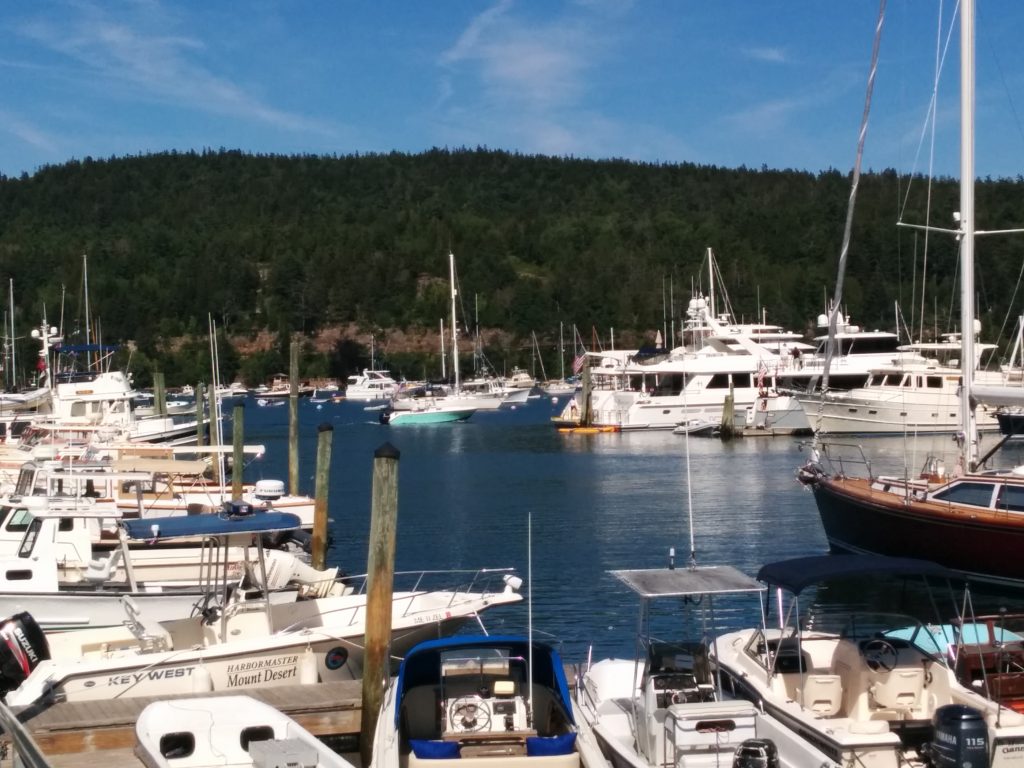 But wherever you end up in the mooring field, Northeast is a great base from which to grab the free bus to any destination on the island, and the shoreside facilities at the marina are nice.
We'll be staying here at least two nights.
Miles traveled: 2077
Engine Hours: 296.8
PS:
If you're checking out the bridge cam videos, you'll notice two interesting things in our transit to Northeast.
First, as we left the main anchorage at Roque Island we passed a smaller anchorage, Bunker Cove, on our port (left) side. It was just about low tide. Due to the full moon, it was a "minus one foot" tide; in other words, one foot lower than normal. The sailboat in Bunker Cove was noticeably heeled over; the keel stuck in the mud. Oops.
Second, after we arrived in Northeast Harbor, we spent a lot of time running up and down through the mooring field, looking for our assigned mooring, number 349. We found 348, 350, 351 and all the rest. In the end, there was no 349. We were ultimately assigned to 326W. But our tooling around the mooring field in time-lapse is somewhat comical.