Monday, July 25th
We got back underway today, putting in 51 miles to Owl's Head Bay. Some of that was the long trip down from Liscombe Lodge, and more in-and-out trying out a poor anchorage on Wolfe's Island outside Ship's Harbor.
The coast was a little less desolate today. We saw four other boats offshore, one close enough to exchange a hearty wave. And we saw dozens of harbor porpoises and seals in a feeding frenzy.
The seas were calmer than previous days, but the coastline here is very irregular, with fingers of land reaching way out to sea, and isolated islands, ledges, rocks and lumps everywhere. All this structure breaks up the steady, gentle swells into chaotic wave patterns that toss us unpredictably in different directions. We found smoother traveling farther from land, but of course that adds miles to our route.
Another pattern is the prevailing Southwest winds becoming stiff around mid-day, whipping up more chop on top of whatever waves were already present.
We've found the best option is to leave early and arrive around noon or 1 PM. I can't say we're enjoying this schedule, but we're making progress. We actually decided to press on past our first-choice anchorage, Shelter Island, as conditions were improving.
Our second choice turned out to be nothing like the reviews. Wolfe's Island has a small cleft in it with a pretty little cove at the head of it. However, the charts show a "zero-depth" contour just inside the mouth of the cove. At the supposed anchorage location, the rocks on either side are 100 feet apart, and the bottom is loose sand and weeds, which offers very poor holding for any anchor.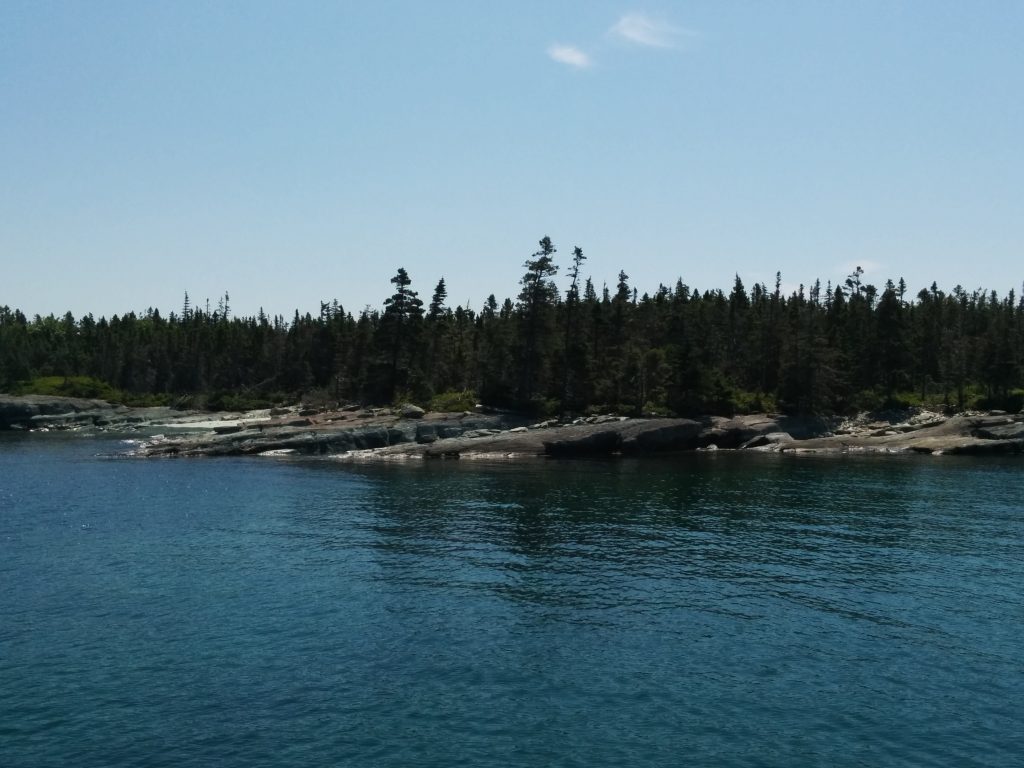 Fortunately, our third choice seems adequate. We're rolling a little from the ocean swells, but the anchor seems to be holding fast and the scenery here is nice, with bald eagles and osprey soaring overhead.



From here, given good weather, we're within striking distance of Halifax. After four nights at "the lodge" we're not really in need of rest, relaxation or provisioning, so we're thinking of skipping the downtown locations and making it a one-night stop outside the city.
Miles traveled: 1666
Engine Hours: 237.0